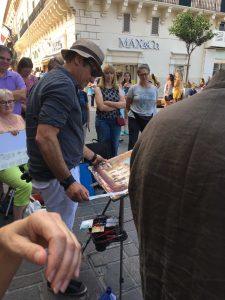 Malta on 24 September 2016. First, we got to meet Alvaro in a conference room at the hotel. We were about 20 participants from different parts of the world who sat quietly and listened to one of the world's best watercolor painters. Alvaro spoke for nearly an hour about watercolor, how to paint, colors, what to think about and much more. Afterwards, I submitted my book, Obsessed by watercolor, for him as I promised and told him about my plans to set up a workshop in Sweden for him. We had discussed that earlier so it was nothing new to him.
Then we took the bus to Valletta and we walked into town. Alvaro wanted an open space that also lay in the shadow of concern for us all. It was a sunny day. He stopped at St George's Square, a large square in front of the presidential palace. He had never visited Valletta earlier and it was fascinating that he quickly chose a subject and began to sketch. Most of it went very quickly, he was meticulous with a small tower appeared behind the buildings. He started with the big shapes and afterwards he draw the people in the foreground. He also draw a line for the shadow in the foreground.
Bernd Klimmer, a German who organized both this workshop and many others with Alvaro told that Alvaro never makes a mistake. It quickly turned out that he was wrong. After Alvaro put on a first wash, he thought the white building was dark and he was forced to apply a layer of white. After the first coat has dried, he painted quickly the people in the foreground. He worked long and carefully with the building on the left, he completed the painting bit by bit. It was interesting to see for myself, I usually fiddling here and there on my paintings. His painting looked doubtful at first but it became fantastically well.
Then he talked about his image, the distribution of hot and cold, dark and light, shapes, 80/20, or 70/30, maybe 60/40 but never 50/50. To paint with as few strokes as possible. Make a car with 100 strokes, is not good, 40, do it again,  10 can be okay. He joked with us that afterwards we would stand in the queue and take photos of his painting, which we did every time he painted finish. This annoyed him a little.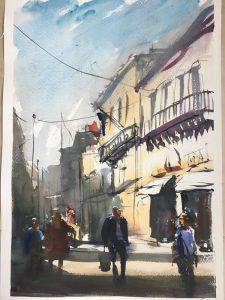 Then we would paint for ourselves. I did not paint the same scene so I painted in a different direction. Alvaro came and went around with tips for each of us. He thought mine was too dark at the top. He took water and paper and rubbed away the upper right. He connected the background with dark color. Everything must hang together, he said. I had three men in the foreground, evenly distributed, it was not good and he painted one more He also darkened down my figures. I never paint on my students' images doing my workshops but with Alvaro it felt okay.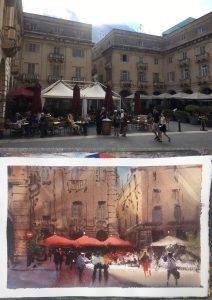 Then we went to StJohns Square, a small square with a lot of restaurants and umbrellas. Alvaro had problems and the background became too strong, he struggled a long time to get it right. Eventually he took a spray bottle and washed away most of it. It did not look good and I thought that even Alvaro can make mistakes. But he said that this will be fine, just wait. Very true, he completed everything with a lot drybrush on the end. There was a drab background and an almost white surface with characters made with a lot of drybrush. Afterwards Alvaro spoke about the composition. His image consisted of two surfaces, the large surface was 80%, the less bright 20%.