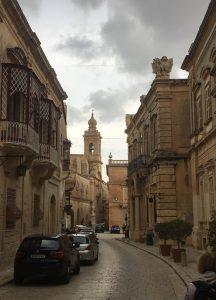 This day we went to Mdina, Malta's former capital. It's an old town with narrow streets, the only place in Malta where there are not so many cars. Alvaro painted a street with a church in backlight.
His first wash contained hot and cold, it is important. After it dried he painted dark gray buildings which surprised many, but he explained that it was backlit.
The buildings were painted quickly and one fell swoop, you can barely see the line between them. He also set a cloud at the church who first looked very bleak, but it paled ago and was absolutely perfect. The ground he toned and put the two cyclists who happened to come by, one inclined to show the motion. It started to rain and the Philippines held an umbrella with steady hand of the master's painting. Raindrops can be devastating on a watercolor.
I tried to paint the same scene, linking the buildings and leave the bright street. I did however have warmer color of the houses, but it was difficult to make the walls, it was not as smooth as I had wanted. I placed two people in the picture and Alvaro thought it needed another one, a larger and closer one. He also thought that I should remove the vertical lines of the buildings. I did as he said. Alvaro thought it was good, and patted me on my shoulder. 🙂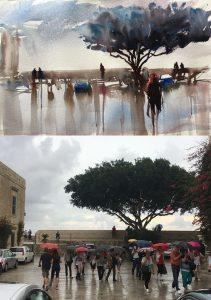 We had then two hours to paint for ourselves. I found a plaza with a wall where tourist have a wide view over Malta. It was raining and I found a small sheltered spot in front of a store. We could not easily choose a good spot in the rain, we had to pint where we find shelter. I thought it went well, it shone in the street and I forgot to draw umbrellas on the figures. Sometimes it came a little rain on the paper so the sky is a bit pattern.
Afterwards we gathered in a museum and we set up our pictures along the wall. Alvaro sat with a laser pointer and commented on all of our pictures. Alvaro did not like my picture, it was the wrong color to be Mdina. The figures were the wrong size for the car.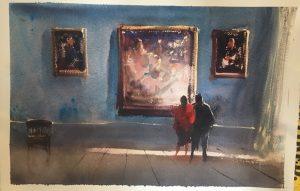 Alvaro made a demonstration inside since the premises because the rain had increased. Alvaro painted a wall with two tables and a large mirror in the middle. He made the big mirror in the middle to a painting and placed two people and a chair in the room. Looked darked, but was very good in the end. He founded the wall with red, alizarin, and then paint over with cerulean blue. To found with a contrast color meant that the blue color will glow, he said. Notice how the board is very light behind the people, all to increase the contrast.
Then we all had to paint in the room. It was hard to find something to paint, and I sat down and did some detailed work on my previous paintings. Alvaro walked around and painted on our papers. It was fun and I ended up on one of the pictures. It is not everyone that have been painted by Alvaro Castagnet 🙂